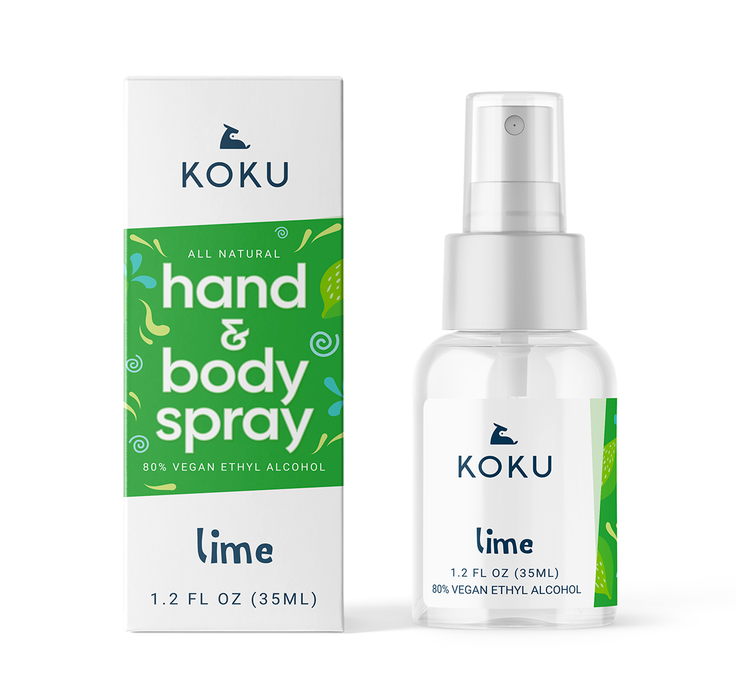 Koku Lime Hand & Body Spray | 1.2 fl oz
Inspired by the citrus gardens in the Aegean peninsula, tart lime gets softer with notes of white flowers, lemon tree blossom, and an oak moss base. Originating from Kyssos, a western-most Greek town in modern-day Turkey, lime smells light and clean, yet tart. A sister of our popular lemon fragrance, this makes a great companion to it. Part of our Happy Citrus line, will pick you up instantly! 
FDA APPROVED EFFECTIVE ON-THE-GO ANTISEPTIC - With 80% Ethyl Alcohol, our spray provides the highest grade of sanitizing for your peace of mind, germs and viruses do not stand a chance. It's the next best thing to washing with soap and water. Throw it in your gym bag, slide it into your purse, keep it in your car or on your desk. Carry it with you at all times and spray it after you use public transport, public toilets, ATM machines for your hand hygiene, even on an airplane with this TSA friendly size.
NO STICKY FEELING OR CHEMICAL SMELLS - Containing only 3 essential, non-synthetic ingredients, KOKU colognes dry off almost instantly, leaving your hands fresh in a matter of seconds. No more repulsive chemical smells, sticky and gritty feeling on your hands. Say goodbye to sanitizer fatigue and hello to a pleasant new way to sanitize

and refresh. This product will blast off germs without wiping out your senses. 
ALL NATURAL INGREDIENTS - KOKU is made up of good-for-you ingredients that are organic, vegan, and high-quality real essential oils. We're also cruelty-free, paraben-free, and plant-based – because we love our planet, too. As a minority- and woman-owned business, diversity, and inclusion are close to our hearts. In short, NO NASTIES!
A VERSATILE & HYBRID PRODUCT - KOKU is very versatile. A hand sanitizer, a fragrant body mist or a quick refresher for the moments when you need a pick-me-up, Koku is a does-it-all mist that also thoroughly kills germs on contact. It has a non-sticky, quick-drying formula.
Cruelty-free, paraben-free, and plant-based – because we love our planet, too. As a minority- and woman-owned business, diversity and inclusion are close to our hearts.


Key Points: 
Antiseptic, 80% Ethyl Alcohol

Vegan

Organic and plant-based

Paraben-free

Cruelty-free

Non-sticky, No Residue

Quick-drying

TSA-friendly size

Woman Owned

FDA Approved Hand Sanitizer


Get to Know Koku's Heritage
KOKU is a delightful new product line that merges the germ-fighting powers of hand sanitizer with an aromatic body mist or refresher. With a potent mix of vegan alcohol and intoxicating, Mediterranean-inspired scents, Koku is a fragrant — and highly effective — spray cleanser for your hands and a body mist.

These last couple of years, we've all experienced sanitizer fatigue. Each time we came in contact with the world, we felt the need to sanitize like surgeons entering an operation room. The cleansing process became too medical with all the sticky, medicinal, drying products with chemical smells. We were either left with drug-like sanitizers or somewhat artificially scented options with questionable effectiveness. That's why we decided that it was time to revive the scented 'kolonya' tradition of the Mediterranean.
Eau de cologne, invented in Germany 300 years ago made its way along trade routes from Cologne, Germany, to the Ottoman Empire where it was adopted by the Ottomans and became Kolonya. Kolonya is a ceremonial tradition of sanitizing hands, feeling refreshed and welcoming guests in the most pleasant manner. And the pandemic reminded us of its beauty, effectiveness and practicality without any of the nasty chemicals.
Hailing from the Mediterranean, our inaugural fragrances are inspired by the local flora and fauna of the Mediterranean region, they will open a portal into warm summer evenings whenever and whereever you are. Carefully sourced natural and uplifting essential oils have culminated into potent and exhilarating sprays to boost your mood and peace of mind.